Believing and Blessing
(Gen 49:2-10; Ps 71; Mt 1:1-17)
*********************************
Did you notice a shift in today's readings?
Until the last seven days of Advent, the emphasis is on the coming of Jesus at the end of time. On December 17th, the theme switches to the coming of Jesus as a baby in Bethlehem, to the Incarnation.
The readings today assert, through a blessing and genealogy, that Jesus is truly the Messiah, the fulfillment of all Old Testament prophecy. We are encouraged to put our faith in him, and to be a blessing to others as he is to us.
In the first reading, Jacob, whose father was Isaac and whose grandfather was Abraham, blesses his sons, starting with Judah and asserting Judah's priority over his brothers. That is significant because already in Genesis the stage is being set for the Messiah to be born of the line of Judah.
To bless, benedicere in Latin, is to speak well of someone. The current men's movement teaches the importance of a blessing. Something happens, shifts, is established within the one who is blessed – a change or mini-transformation takes place. I once gave a retreat to my brother Oblates in which 93-year old Archbishop emeritus Adam Exner OMI, my former professor and spiritual director participated. I was shocked when I read his comment in the thank you card at the end of the retreat: "The student has surpassed the teacher – am proud of you!" Overcoming my disbelief, I re-read the comment, then felt a flood of energy and emotions – surprise, delight, joy, affirmation, blessed – I could have flown out of the room. This was an older bishop, being humble and stepping aside to bless a younger bishop so he could be more generative. That was a true blessing, one which is priceless and which I will take to my grave.
It is this kind of blessing Judah received from his father, and also the kind of blessing that all parents, grand-parents, uncle and aunts should be giving to their children, grandchildren, nieces and nephews. It is the blessing of the Father bestowed upon Jesus at his baptism in the Jordan and on the Mount of Transfiguration that empowered him to give his life freely for us on the Cross to show the world the depth of the Father's love.
The gospel from Matthew, who is writing for a Jewish audience, focuses on the genealogy of Jesus. Numbers were important to the Semitic mind. Seven symbolized wholeness, perfection, completion, infinity. Fourteen stands for a double measure of all those qualities. It also conveys the meaning of salvation and deliverance and is used twenty-two times in the Bible. To have three sets of fourteen generations, however, is to set a standard far above all others. Clearly, Matthew is trying to establish that the Christ child, coming from such a genealogy, is no ordinary child, but must be the Messiah.
What is also very interesting, noteworthy, striking even, especially within such a strong patriarchal culture where women had very little place or value, is the present of five women in that list. Even more shocking is the shadowy side of four of these women.
Tamar was the daughter-in-law of Judah, who had three childless sons. So, she disguised herself as a prostitute and committed incest with Judah to preserve the line of Judah into which Jesus would be born. Rahab was a pagan prostitute who protected the spies of Israel as they were preparing to demolish her city Jericho. As the result of her sacrifice, her family was protected. Ruth was a Moabite, a pagan polytheistic people totally opposite of the Jewish religion. Nevertheless, she set out on a journey as a widow, faithful to her mother-in-law Naomi, a Jew, back to the land of her people, the Israelites. There, she found a husband, secured a spot in the lineage of Christ and a book of the bible about her. Bathsheba, of course, was the wife of Uriah whom David seduced into adultery, and thus became the mother of Solomon.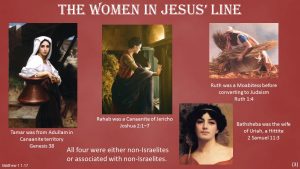 Last on the list is Mary, who while engaged to Joseph became pregnant, which was considered at that time a scandal subject to extreme punishment. Yet it was to her that Jesus the Messiah was born.  The surprising inclusion of these women in the genealogy of Jesus can underline the importance of women in a patriarchal culture, but more important, reveal a God who is comfortable with human weakness, imperfection and brokenness, and can transform any negative reality into new life and wholeness. That can be a source of hope for all of us, and an invitation to practice a spirituality of imperfection.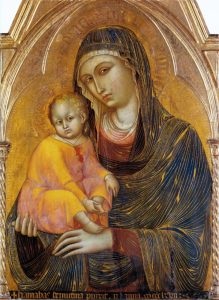 The Eucharist is itself a blessing from God, who nourishes us with God's own word, and then shares with us the unconditional love of his Son Jesus through our communion with his body and blood.
May our celebration strengthen our faith in Jesus as the Son of God, the long-awaited Messiah, and empower us to bless others in our lives as he has blessed us.