HOMILY WEEK 23 01 – Year I
Mining the Great Mystery – Christ in Us:
(Col 1:24-2:3; Ps 62; Lk 6:6-11)
*****************************************
As a 25th anniversary of priesthood initiative in 1994, I wrote a booklet on Indigenous ministry called "Northern Nuggets" that eventually morphed into the book Drumming From Within published by Novalis. That original title inspired me to look at today's readings through the prism of mining.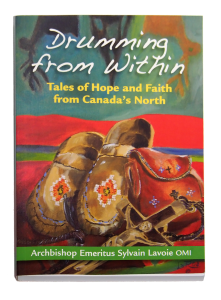 The readings today are like a newly discovered mine from which one can extract three priceless nuggets. St. Paul articulates the mine itself – the "mystery of Christ in you, the hope of glory." The three nuggets are redemptive suffering, contemplative prayer and living out of the law of love.
First, we explore the mine itself. The reality of the Cosmic Christ is a great mystery, a treasure of wisdom and knowledge that has been hidden and buried throughout the ages and generations and has now been revealed to us. It has something to do with the "word of God made fully known," key to the glory of the riches this mystery holds. We are invited to mine a mystery – the Word of God made flesh, living in us! Christ, our creator and crucified-risen Lord, lives in us. Hold on to that, as we diamond-drill into the core of this mystery.
Our drilling extracts the first nugget, redemptive suffering, that is found in the first reading and the words of St. Paul: "I rejoice in my sufferings, and I am completing what is lacking in Christ's afflictions for the sake of his body, the church." How is this possible – to make up what is lacking in the suffering of Christ? This is called redemptive suffering and it is also a mystery our world today simply does not understand and tries to avoid at all costs. When we accept some inconvenience or suffering in our lives, without bitterness or resentment, then we are just like Jesus on the cross; our suffering is connected to his, takes on deep meaning and purpose, and actually helps build up the reign of God that Jesus came to inaugurate here on earth.
It takes faith to accept this mystery, and the fact that our society now accepts physician-assisted suicide and is undergoing an opioid crisis is lamentable evidence of that lack of faith that no longer is able to see any value in suffering, that considers it an enemy, that goes to great lengths and effort to medicate and avoid any pain at all. Our task is to proclaim there can be meaning and even joy in suffering that is redemptive and faith-filled.
The second nugget we extract from this great mystery is contemplative prayer, found in Psalm 62: "For God alone my soul waits in silence, for my hope is from him, my safety and my glory." According to Thomas Keating, the language God speaks best is silence. Rather than saying many prayers (which might make us feel more satisfied with ourselves), we are invited to take a leap of faith into a more mature kind of prayer – that of presence, waiting, listening and trusting. It is a stance of being, not doing, and creates a space within us allowing the Holy Spirit to touch, heal and nourish at a level deeper than the subconscious, whatever within us needs that touch of the Holy Spirit. It is just "being" in God's presence, trusting that God is at work within us. My monthly Poustinia, a 24-retreat or going into the desert, of fasting, resting, writing and many holy hours of Lectio Divina, provides that sacred space for me.
It is said of St. Jean Vianney, the Curé of Ars, that when asked what he does during his prayer, he replied, "I just sit, looking at him, and he looks at me." My mantra for my contemplative "holy hour" today became "Christ in me – great mystery." Eventually, like St. Jean Vianney, after internalizing that mantra for most of the prayer time, I try to let even that go and just look at Jesus (by gazing at the candle, lectionary and tabernacle) and soak up God's love. Lucie Leduc, director of the Star of the North Retreat Centre, explains that the "oratio" of Lectio Divina is an intimate inner brief conversation with the Lord about the Word one is praying over, more so than lots of petitions, a practice I now follow and find helpful.
Pastor Rick Warren shares how he delighted to watch his little baby son breathe, his chest gently moving up and down. The little child was not doing anything – just sleeping and breathing, yet Warren felt deep joy realizing he had helped to co-create this tiny bundle of life. It struck him that is how God delights in us – just like that little child, we don't have to do anything! Just by being alive and breathing, we are a source of delight to our loving God. Dare we believe that, and let go of any trying to earn God's love?
Mary grew up in a good Catholic home, but had a perfectionist father. She loved him, but those high standards left her with a gnawing feeling of never being good enough, and a legacy of trying to earn her father's love by striving to succeed in everything she did. At one point, she was unjustly let go of her position in administration, as were most of those under her, because of a bureaucratic misguided plan. That event impacted her deeply, and encouraged by her friends, she entered into some months of therapy. Now temporarily unemployed, she finds herself still struggling with a mindset of "not feeling strong," "needing something to do that will give me value," and "wanting only to share what is really good."
While the space she is in feels very painful and uncomfortable, I suspect she is on the cusp of breaking through to a much deeper relationship with God if she accepts the challenge to focus on contemplative prayer. It is a prayer of "being," not "doing," and becoming more like that little child, soaking up God's love by letting go of any hint of trying to earn that love by "doing" to be more "worthy."
The last nugget we extract from mining this mystery of Christ within us is the law of love found in the gospel. The scribes and the Pharisees watched Jesus to see if he would break the Sabbath law. How ironic that the Word made flesh, Christ the Messiah, was right there before them, fulfilling the prophecy of Isaiah by healing the sick, and they couldn't "see" it. They were so "in love with the law" they could not stand the more challenging "law of love" Jesus always rightly made the priority in his ministry. That challenge to love so upset them they were filled with fury and wanted to destroy Jesus.
Before we easily discount the scribes and Pharisees, we need to dust off our own actions and attitudes that just might have some of that tendency to overly rely on rules and regulations that we are keeping and tend to judge others as "less than" because they aren't quite as "correct" or "holy" as we are. This is where mercy trumps judgement every time.
The Eucharist is a rich source of grace, mercy, wisdom and healing we can never mine enough. May our celebration empower us to discover the riches of this mystery of Christ living within us, and to live out that mystery through redemptive suffering, contemplative prayer and unconditional love.