HOMILY WEEK 22 04 – Year I
Our Life in Christ:
Optional Memorial of Blessed André Grasset
(Col 1:9-14; Ps 98; Lk 5:1-11)
*****************************************
"Since we heard of your life in Christ." Has anyone ever said that to you? Those words of St. Paul to the Colossians in the first reading today are a strong reminder to us that we are privileged to be "living in Christ." But just what does that imply?
Psalm 98 sets the scene in answer to that question. "The Lord has made known his salvation and his victory, has revealed his vindication. That is a direct reference to one of the roles the Messiah would have when he came – to overcome the enemies of Israel. And that is just what Jesus did – overcame the real enemies of Israel (not the Romans but sin and death) by his resurrection. That is the real victory – the evangelion – the Good News to be proclaimed.
In the gospel, what it means to live in Christ is further spelled out for us. The "crowd was pressing in on" Jesus "to hear the word of God." There is divine irony here, for Jesus is the Word made flesh, so they literally were listening to the "Word" of God. Then suddenly that word exploded into the miraculous catch of fish. If one wanted to get the attention of fishermen, that is how to do it! Talk about an "extravagant gesture" as Whitney Houston sang years ago.
That miracle sets off a pattern for our faith life: repent, follow and live. Peter's response is repentance – "Depart from me for I am a sinful man." That is so fitting, for the stronger the sun, the sharper our shadow. So, the closer to God we come, it is only natural that we see more clearly our sin, our "hamartia," how we have fallen short of the mark in terms of loving God. In the Cree world, to sin is to fail to live up to the law of nature, the purpose for which God created us. To repent is to be aware, to admit, to confess our failing, to receive in the words of St. Paul, "redemption, the forgiveness of sins."
These fishermen then leave everything and follow Jesus. One definition of spirituality is that it is all about "letting go." To live in Christ is to let go of anything that gets in the way of making Jesus the centre of our lives. He must come first – there can be no other false gods taking his place.
Now St. Paul takes over and effusively pours forth all kinds of ways of living in Christ. First, we are to be filled with the knowledge of God's will for us. Step 11 of the program of AA states it well, "Sought through prayer and meditation to improve our conscious contact with God, seeking only the knowledge of God's will for us and the power to carry it out."
That is so that we will lead lives "worthy of the Lord, pleasing to God and bearing fruit of good works," service and love. Paul prays that God's glorious power will give us strength to accept some suffering in our lives without bitterness or resentment, and to even experience joy and gratitude in doing so, because we already share in the eternal life of the saints in light. This is known as "realized eschatology" – heaven is already begun for us here and now.
The real kicker comes in the last paragraph – not only do we share in the eternal life of the saints when we live in Christ, we have above all been transferred into the kingdom of Jesus, the beloved Son of God. That means that an old way of life – the life of sin, selfishness, sadness, guilt and fear has ended, and we have been gifted with a life of purity, single-mindedness, love, joy, serenity and freedom from fear. We are already participants in the reign of God that Jesus came to inaugurate.
Brent is someone who understands these readings, and is truly "living in Christ." A grievous mistake when he was young caught up to him in his middle-age and plagued him with guilt and fear. He began a healing journey and "faced reality, accepted reality and dealt with reality." He made a life-time confession like Peter, received forgiveness for his past, and started to make things right to the extent that he could. Now he does a monthly retreat listening to God's word, reads voraciously, and volunteers with youth ministry, as a fisher of people, in his local parish.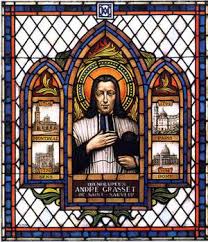 Blessed André Grasset, whom we honor today, was born in Montreal in 1758. His family had come to Quebec in 1749, but they returned to France after the Battle of Quebec. Ordained a priest, André was serving at the cathedral in Sens when the French Revolution began. Refusing to sign the Civil Constitution of the Clergy, he and many other priests and religious were imprisoned in 1792 and martyred. As one of a group of 190 martyrs, André was beatified in 1926. The following year a college in his name was opened in Montreal.
The Eucharist is a "realized eschatology" foretaste in this life of the fullness of peace and joy that will be ours in the next life. We not only listen to the Word of God, we receive that Word physically as the Body and Blood of Jesus. And we break forth into "joyous song, sing praises and make a joyful noise before the King, the Lord" as we do so.
May our celebration help us to actualize the words of St. Paul in the first reading, and strengthen the way we live out our "life in Christ."