HOMILY EASTER SUNDAY YEAR B
Eternal Life through Faith, Forgiveness, Healing and Grieving
(Acts 10:34, 37-43; Ps 118; Col 3:1-4/1 Cor 5:6-8; John 20:1-18)
************************************************************
"This is the day the Lord has made; let us rejoice and be glad."
We have every reason to rejoice and be glad, because through the resurrection of Jesus, we already share partially in the very life of God. The readings this Easter Sunday morning invite us into that life through faith, forgiveness, healing and grieving.
Regarding faith, St. Paul, in the second reading, tries to describe this eternal life with God. We have been raised with Christ and with him are already seated at the right hand of God. We have died, and our life is hidden in God, until the fullness of that life and glory is revealed. According to Richard Rohr, "the risen Christ is the standing icon of humanity in its full and final destiny. He is the pledge and guarantee of what God will do with all our crucifixions. At last, we can meaningfully live with hope. It is no longer an absurd or tragic universe. Our hurts now become the home for our greatest hopes."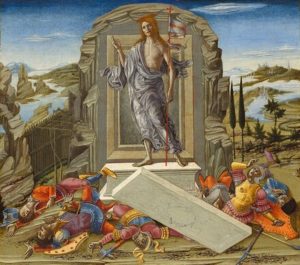 St. John, the beloved disciple, was the first to believe. We are told in the gospel he went into the tomb after Peter, "and he saw and believed." What led him to believe was the linen wrappings lying there. Those wrappings would have gone with the body if it was removed. John understood Jesus burst out of the cloth binding him, leaving them behind like a deflated air mattress, and believed. Jesus was truly risen from the dead to a new, eternal life. Easter invites us to that same belief.
Regarding forgiveness, Peter, in the first reading, proclaims everyone who believes in Jesus, repents and confesses their sin, receives forgiveness of sins through his name. Jesus is the forgiveness of God in the flesh. All we need do to experience this new life of Easter is come to him to receive that forgiveness.
Regarding healing, Peter, in that same reading, tells us that Jesus, anointed Messiah and filled with the power of the Holy Spirit, healed all who were oppressed by the devil. This is truly good news. Jesus not only forgives us our sinful actions, he also heals us of our sinfulness, that which makes us sin. That is our painful emotions like anger, resentment, jealousy, fear, etc. It includes our defects of character like false pride, human insecurity, stubborn willfulness, greed, etc. These are the things that make us sin and can be healed.
Regarding grieving, Mary Magdalene comes to the tomb, stuck in grief, "early on the first day of the week, while it was still dark." That sentence is a sure signal the resurrection of Jesus is beginning a new creation, a new way of life, already a sharing in the very life of God.
Mary will share that life by learning to grieve her loss. Jesus tells her not to cling to him because he has not yet ascended to the Father. Jesus explains she cannot have him back as he was because he has changed – he did not just come back to life, he has risen to a new eternal life he wants to share with Mary, and all of humanity. But Mary can't receive that spiritual life if he is physically present to her. He is teaching her to grieve and mourn his loss, let him ascend to the Father, and then he can send her his Spirit to be with her always. That is what happened at Pentecost.
It is the same with us. We have to mourn and grieve our losses, especially the loss of our loved ones, give them back to God, and we will be able to receive their spirit to be with us in a new way. We will feel their presence, and not miss them anymore.
The gospel ends with Mary announcing to the disciples, she has seen the Lord. She who experienced the most love from Jesus through forgiveness, healing and grieving, becomes the first one to see the risen Lord, and the first to announce the resurrection to others.
That is also our task – having experienced the good news through faith, forgiveness, healing and grieving, we are sent out to announce the good news of sharing in eternal life now to all our brothers and sisters still caught in the darkness of sin, sinfulness and addiction.
The 12 Step program takes us right into this Easter mystery. Four of the steps are all about faith and belief (2,3,7,11). Four of the steps are all about forgiveness and reconciliation (5,8,9,10). And step 12 is all about sharing the good news of sobriety, joyous and free, to others who still suffer.
Robert, a recovering alcoholic in his fourth year of sobriety, came with me on a 12 Step call to convince a suicidal alcoholic, who was resisting treatment and in danger of a seizure, to go to a hospital. Robert sat on the edge of the bed, looked the man in the eye and thanked him for saving his life, because he was an alcoholic and needed to help another alcoholic to stay sober. The man's resistance melted and he agreed to go to the hospital. After his release from the hospital, Robert picked the man up, took him to his home and put him through the 12 Step program over the next few days. Robert was truly living the readings of today – belief in Jesus, forgiven and healed by Jesus, having grieved and mourned his losses, and now able to reach out to help another suffering alcoholic. Robert has risen to a new level of life he never thought possible – the very life of Easter, eternal life here and now.
The Eucharist brings all this together – it is an act of faith, an experience of forgiveness and healing, and a vigil until Jesus comes again. May our celebration deepen the life of Easter within us and empower us to go out and share it with others. He is risen, alleluia!