HOMILY WEEK 05 06 – Year I
Responding to Love with Love
(Gn 3:9-24; Ps 90; Mk 8:1-10)
**************************************
Many years ago, the Beatles sang a song, "All You Need Is Love."
That song resonates with the readings for today, which remind us of the depth of God's love for us, and our call to respond to that love with faith in that kind of compassionate God.
God actually showed a tremendous amount of care and concern for the man and woman. God clothed them. God protected them from the consequences of eating from the tree of life by banishing them from the garden, not as a punishment but so that they would not have to live eternally in their fallen state. We see here that the consequences of sin are shame, guilt, fear, hiding by putting on masks, and blame. By this fall of Adam and Eve, death, sin and mortality entered the world. God explained these consequences of their disobedience to them, not in an angry rant, but to help them understand what they would now have to contend with.
This is a God who is incredibly loving and kind. Even when we deserve punishment, God doesn't deal with us according to our sins. God is on our side even when we sin against God. One theologian claims "when we sin, God punishes us by loving us even more." God always seeks to promote his own life within us. Sometimes it is by assuring us of his love or caring for us tenderly. Other times it is by bring truth, however inconvenient or painful it may be, to our minds and lives.
God is the Father who runs to meet the prodigal son. God is the Son who died so that we might be healed and reconciled. God is the Spirit who comforts, convicts and empowers. And in this passage, God promised that the woman's offspring would overcome evil in the world
That is what we see happening in the Gospel. Jesus, the offspring of Mary, continues to show the compassion of God in an even more visible way. In doing so, he fulfills two of the roles that the messiah was expected to perform: to gather all the nations, and to deal with the enemies of Israel.
The crowd that has been with him for three days, some from a great distance, is a sign of the messiah gathering all the nations. And feeding the multitude with seven loaves and seven baskets left over is a sign of the messiah dealing with the enemies of Israel. Here it is physical hunger. By his death on the Cross, and by his resurrection, Jesus would overcome the real enemies of Israel: sin, death, shame, guilt, fear and the false self that entered the world in the Garden of Eden.
The disciples' response to Jesus' question about how many loaves they have – "How can we feed these people with bread here in the desert?" is a revealing one. Had they more faith and understanding, they would never have asked that question, for they were in the presence of the very Bread of Life himself. Like Adam and Eve, they were being taught to trust more deeply in the compassion and goodness of God, and to obey Jesus as the messiah and Lord of life.
These readings are an invitation for us to let go of any fear of God that might still linger in our deepest consciousness. Over and over, Jesus told us, "do not be afraid." Many people still harbour that subtle, inner fear that they are not good enough, that they are somehow flawed, that God will still punish them. The readings today are designed to banish that perception in us, to set us free from fear, and to fill us with confidence in the unconditional love of God for us all.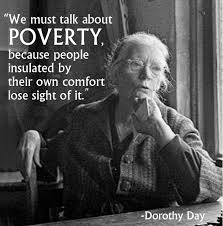 In the movie, Entertaining Angels, Dorothy Day, founder of the Catholic Worker movement, is confronted by her staff who are upset by the type of people they are taking in.  After one resident commits suicide they want to exclude drunks, the mentally ill and thieves from entering their houses. Torn by that demand, Dorothy pleads for guidance from a silent God, and almost gives up. That night, Meg, a drunk, was caught stealing their money. She attacked and beat Dorothy with a cane. Dorothy was able to grab the cane and push Meg to the floor, who taunted her and almost begged Dorothy to hit her, a drunk and a slut, because she deserved it. In her anger and frustration, Dorothy was tempted to do so, but suddenly in a flash of divine inspiration and love, she stopped. Instead, she told Meg that she saw light in her, that she had inner beauty and goodness. That incident changed them both. Dorothy came to the realization that her meeting place with God was the poor, and that this was the answer to her prayer. The staff gathered around was also changed, decided to stay the course and the Catholic Worker movement of unconditional love for the poor and the abandoned was probably truly founded that night.
The Eucharist is an experience of that same unconditional love that God showed Adam and Eve, and that Jesus fed the hungry crowds with.
May our celebration deepen our conviction of how much we are loved by our God even in our sin and sinfulness, lead us to repentance and transformation, and send us out to care for all we meet and for the poor, with as much love and commitment as did Dorothy Day.