HOMILY EASTER SEASON WEEK 06 03 Year II
Faith: Lived Out or Just Worn?
(Acts 17:15, 22-18:1; Ps 148; Jn 16:12-15)
************************************************
Are we just wearing our faith, or truly living it?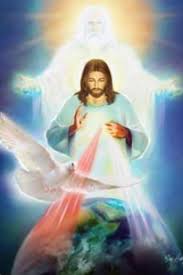 The readings today invite us to have a mature, genuine faith in God as Trinitarian relationship and Jesus as Risen Lord that will make a difference in our lives.
Rose was struggling in her relationship with her husband Fred who was raised in a traditional European culture that saw religion as something one had to do, more like a cultural practice, with very little communication or show of affection in his family of origin. Fred carried that dysfunction and emotional insecurity into his marriage. His faith didn't seem to touch his life as he descended into a more and more self-centered, uncommunicative and unforgiving way of living his life that left her deeply frustrated, hurt, and feeling powerless to change anything. They were living as married singles yet went to church every Sunday. Fred was wearing his faith but not really living it.
St. Paul, in the first reading, notices the Athenians must have suffered from a similar insecurity in their relationship with their gods, as they felt it necessary to have a shrine to an "unknown god" for fear of offending that mysterious god. Relying on his experience of meeting Jesus as Risen Lord on the road to Damascus, and his own monumental transition from theism into an intimate relationship with God as Father, Son and Holy Spirit, he shares that good news with them. For most, it was beyond their ability to comprehend, although we are told that Dionysius, Damarus and others came to believe, becoming the first Christians in that area.
The gospel takes us to the last discourse of Jesus before he would give his life for us. In that last teaching to his disciples, he stresses once again his intimate relationship with the Father, from whom he has received everything, and with the Holy Spirit, the Spirit of truth he will give to them. That Spirit will both glorify Jesus, vindicate him by raising him from the dead, and also reveal to them who God truly is and who they are to be because of their new-found faith in this relational God who is love and calls them to love as they have been loved.
We know the outcome. From what seemed like total disaster and defeat through crucifixion, came resurrection to a new life of sharing in divinity here and now, of living on earth as if we were already living in heaven. That involves what our Eastern cousins call theosis or divinization, becoming Christlike in our everyday lives, here and now. It is also known as realized eschatology – heaven already present and yet to come in fullness. Or as St. Paul puts it in 2 Corinthians 3:18 – "All of us, with unveiled faces, seeing the glory of the Lord as though reflected in a mirror, are being transformed into the same image from one degree of glory to another; for this comes from the Lord, the Spirit."
That reality is meant to be experienced in our lives, as we put our faith in the God of Jesus Christ and seek to do his will, and only his will, in our lives. That involves an awareness of how we are falling short of this vision, and a raw commitment to doing metanoia, or repenting, as St. Paul encourages the Athenians to do. That means changing our whole belief system, questioning the cultural way we may have been raised, realizing that no culture is perfect and all cultures need redeeming and transformation as much as people do, and then rolling dice on the gospel – taking it seriously and humbly making whatever changes we need to make, so that our lives conform to what God is calling us to.
In a nutshell, that is to believe in God and love God back with our whole being; to love others as we love ourselves, to love one another as Jesus has loved us, and above all, to love our enemies by forgiving them from the heart.
Something I have found helpful, as a self-assessment on how well we are living the gospel, to adapt the teaching of St. Paul in 1 Corinthian 13:4-9 by substituting the word "I" for the word "love" as follows: "I am patient, I am kind, I am not envious or boastful or arrogant. I do not insist on my own way; I am not irritable or resentful; I do not rejoice in wrong doing but rejoice in the truth. I bear all things, believe all things, hope all things and endure all things."
If that adaptation fits us well, then we are living our faith from the inside and not just wearing it on the outside.
The Eucharist is a sharing in the truth spoken by Jesus: this is my body, and this is my blood. May our attention to his Word, and our intimate or spiritual communion with him strengthen our faith in our loving Trinitarian God and empower us to live out that faith with concrete acts of humble, selfless love.