HOMILY EASTER SEASON WEEK 07 05 – Year I
On Love as Faith, Forgiveness and Following:
Optional Memorial of St. Philip Neri
(Acts 24:27, 25:13-21; Ps 103; Jn 21:15-19)
**************************************************
The readings today would fit well a feast for Peter and Paul, as they feature these two pillars of the early church.
The readings also invite us to deepen our faith in Jesus, come to him for forgiveness and healing, and then follow him through our own Paschal Mystery journey.
In the gospel, Jesus basically reminds Peter of the three times he denied him by asking him three times, "Peter, do you love me?" In a very gentle way, Jesus is revealing to Peter and to us all, the profound inner connection between faith, forgiveness and love, and the central role that the experience of love as forgiveness plays for any position of authority within the church.
One could say that Jesus is asking Peter if he really believes in him as Risen Lord and Messiah; does he really trust Jesus completely and totally; is he willing to surrender his will and his life to him? Because that is what love truly is.
Actually, every appearance of Jesus to his disciples after his resurrection was an experience of his love as forgiveness. They had betrayed him, denied him and abandoned him, yet when he appeared to them, there was no trace of anger, resentment, revenge, bitterness – only forgiveness, radiating peace and joy. That truly is the deepest nature of love.
Then Jesus does not so much ask Peter to worship him, but bluntly tells him, "Follow me." Those key words, "follow me," are also addressed to us. Like Peter, we are also to come to Jesus for forgiveness of all our sins, and for healing of all our sinfulness (that which makes us sin), our painful emotions like anger and resentment, and our character defects or negative attitudes like false pride, stubborn self-will, jealousy, low self-worth, superiority, etc.
Then we are asked to "pick up our crosses" and follow Jesus into our own version of his Paschal Mystery consisting of six distinct stages: passion, death, resurrection, appearances, ascension and Pentecost. For us that becomes dealing with our hurt (passion), dealing with our losses (deaths), going beyond surviving (resurrection), accepting our losses (appearances – giving our loved ones back to God), forgiving those who have hurt us (ascension) and finally, receiving the spirit of our loved ones in a new way (Pentecost). Then the peace and joy that only faith in Jesus provides will flood our whole being, regardless of our circumstances at any given moment.
That is what we see St. Paul living out in the first reading. He who thought Jesus was a renegade Jew and who was persecuting the early "followers of the way" encountered Jesus on the way to Damascus as the Risen Lord, Messiah, and head of the body of believers Paul was persecuting. Three days of blindness and three years in Arabia were all liminal space for Paul to absorb, take in and integrate who Jesus was, how the scriptures were all about him, and how forgiven he was. Once convicted of that in every fibre of his being, nothing could stop him from proclaiming Jesus as Lord and Messiah to both Jew and Gentile – not even being forgotten and left to languish on a horrible prison cell which must have tested his faith in Jesus. What a model for us, especially in our darkest moments!
One day, I presided at a celebration in the Remand Centre for a group of about twenty inmates, all dressed in their orange prison outfits. I could not help but think of how they could, if they wish, become like St. Paul – place their faith in Jesus, come to him for forgiveness of the actions that landed them there, healing of their emotions and attitudes that cause them to act out in hurtful ways, and follow Jesus through their own Paschal Mystery experience, grieving their losses, forgiving their enemies, and finding a new life of peace, joy and freedom even while behind prison walls.
One person afterwards shared with me how she turned to alcohol and drugs when her father, whom she loved, passed away, and was struggling with her sister who, without her consent, maligned her and took her daughter away. She needs to grieve her loss, and forgive her enemy. My hope is that she will live today's readings and find that new life waiting for her.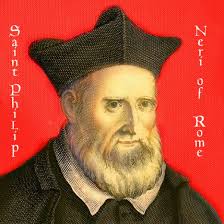 Today the church invites us to honour St. Philip Neri, who was born in Florence in 1515 and educated by the Dominicans. Philip experienced conversion at the age of 18 and left for Rome, where he lived a life of seclusion and poverty. He studied philosophy and theology for three years before choosing to re-evangelize Rome, where Christianity had declined and was sadly, in need of reform. He spent his days talking to people about God's love, and his nights in prayer. In 1548 he helped found a confraternity of laymen to minister to needy pilgrims, leading to the establishment of a now-famous Roman hospital, Santa Trinità dei Pellegrini. In 1551, his confessor insisted Philip be ordained. As a confessor himself, Philip Neri is the patron of home missions, supported in Canada through Catholic Missions In Canada.
The Eucharist is a participation in the Paschal Mystery of Jesus Christ. It is an act of deep faith, and an experience of forgiveness and healing, even as we celebrate it. Then we are mandated to go out and live what we have celebrated – God's love as faith, forgiveness and following Jesus.