HOMILY WEEK 32 04 – Year II
Joyful, Just, Suffering Saints:
Memorial of St. Leo the Great
(Phil 7-20; Ps 146; Lk 17:20-25)
************************************
What do you think? Can joy and suffering co-exist?
The readings today invite us to live as joyful, just, suffering saints in the Reign of God.
In his letter to Philemon, St. Paul refers to the disciples he has evangelized as saints. The rest of the readings spell out what it means to be a saint following Jesus.
In the gospel, Jesus is clear it means living in the Reign of God that is both present reality and future fulfillment. This reference (Luke 17:21) is the only place in the New Testament where Jesus does not just say the kingdom of God is near or one is not far from the kingdom, he actually states the kingdom of God is here, present, among and within us.
That is an amazing revelation, one which inspired my motto as a bishop –  Regnum Dei Intra Vos – "The Kingdom of God is among you." So, on the one hand, to be a saint is to be living within the reign of God and sharing the very same eternal life of peace and joy that is the reality of the Trinity, Father, Son and Holy Spirit, a perichoresis or divine dance of constantly outpouring love.
On the other hand, to be a saint here below is to live within an infinite horizon of hope, because the fulness of the kingdom, when Jesus returns in his fullest glory, is still to come. We are actually keeping vigil, waiting in hope, like the woman who asked in her will to be buried with a fork in her hands, because her mother always told her at meal times to "keep your fork, the best is yet to come." This faith-based hope allows us to put into perspective all the pain, hurt, losses and anguish of living life, even as saints, in this wounded world.
Perhaps that is why Jesus is quick to point out, after he explains the "partially realized eschatology" nature of the kingdom, that first the Son of Man must "endure much suffering and be rejected by this generation." So somehow, meaningful suffering is to be part of our experience of living as saints in the kingdom of God.
Throughout the history of humanity, the best of thinkers has all struggled with the mystery of evil and suffering in our world. The Buddha finally decided thwarted human desire was the source of suffering so if we eliminated all human desire that would remove suffering from our lives. However, that inspiration is still an attempt to avoid legitimate suffering. We are so blessed as Christians because while Jesus does not explain the mystery of suffering, he models for us how to deal with it, and that is embrace it and transform it!
As a radical disciple, doing only the Father's will to reveal to humanity the depth of the Father's love for us, Jesus accepted pain, humiliation, suffering, torture and even crucifixion, the most painful death of all, without bitterness or resentment. Then, through the power of the Holy Spirit, Jesus transformed that apparent defeat into a glorious resurrection and new life. In this process, the suffering of Jesus became redemptive, full of meaning and purpose, the best way to handle the mystery of pain and suffering.
Therein is the secret to the Kingdom of God – if we can do likewise, accept pain and suffering in our lives without bitterness or resentment, however it comes to us, then we are just like Jesus on the cross. On the cross, Jesus was totally at peace, and I believe may even have felt some joy, in spite of the experience of the apparent absence of God, because he knew he was accomplishing the Father's will to reveal God's unconditional love for God's wounded world.
This is a mystery our world does not understand and therefore is stuck with only one way of coping with suffering. That is a desperate attempt to avoid it by all means, including physician-assisted suicide, and addiction of all kinds. One definition of addiction is an attempt to avoid legitimate suffering, legitimate because there are certain life-lessons we can learn only through some suffering. It is our suffering that produces character and adds depth to our personalities, such as empathy and compassion. As Richard Rohr claims, only great suffering or great love is capable of knocking us out of our own small, self-centered ego-drama into a much larger, other-centered Theo-drama.
The psalm adds the element of working for justice to our lives as saints within the kingdom. Every stanza in that psalm proclaims some aspect of the justice of God: feeding the hungry, setting prisoners free, healing the blind, lifting up the oppressed, watching over strangers, upholding orphans and widows, and bringing the wicked to ruin. If this is what our God is like, and we are saints living within God's kingdom, then we must emulate our God and make working for justice a priority in our lives. There is a saying, "If we want peace, work for justice." I believe justice is the basis for a lasting peace.
In a strange twist, I see justice happening in the march of migrants through Mexico to the United States. For decades, US foreign policy has engineered dictatorial unjust governments in Latin America to favor its own economic interests in the form of multi-national corporations. Juan, a friend of Fr. Gerry's from Guatemala, shared with me how this practice led to the deposition of a very just, caring president of his country, who was a capitalist but tried to bring greater justice to the poor of his country. Because he was not subservient to the multi-national corporations, the US labelled him a communist, managed to de-stabilize the country and replaced him. The reason Juan says migrants are fleeing their countries is because of corruption, unemployment and injustice as the result of this foreign policy.
What I conclude is that the foreign policy of the United States created the intolerable conditions forcing the migrants to flee to the United States for a better life, the very country now trying to label them as criminals and build a wall to keep them out. I think in all fairness the US should try to make amends for this unjust policy by inviting them in and helping them in their search for a better life! That would be justice.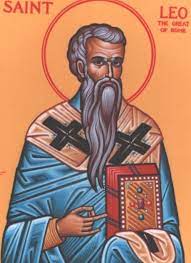 Today the Church remembers and honors someone who also had clear gospel priorities in his life, St. Leo the Great. Leo is well known for his peacekeeping efforts, and worked alongside the people to rebuild Rome and its churches after the barbarian invasions. Leo is best known for his sermons on faith and charity. Always a strong opponent of heresies, his teaching has had a lasting influence on the life of the Roman Church. He is the first pope whose sermons and letters have been preserved in extensive collections. He was made Doctor of the Church in 1754.
The Eucharist makes present for us, through Word and Sacrament, the forgiving, healing, unconditional love of God for us Jesus demonstrated on the Cross through his redemptive suffering. May our celebration empower us to live as joyful, just, suffering saints in the Kingdom of God.