GOOD FRIDAY HOMILY – (Homily 01)
Choose Jesus' New Way of Life
(Isaiah 52:13-53:12; Ps 31; Heb 4:14-16; 5:7-9; Jn 18:1-19:42)
*******************************************************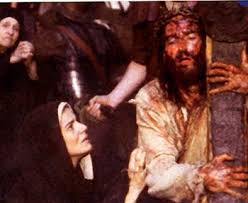 In the movie Passion of the Christ, Jesus, beaten, bloodied and half dead, meets his mother and tells her simply, "Behold, I am making all things new." This is the shocking reality of faith – it is through his death on the cross that Jesus will make all things new. It is through an act of surrender, non-violence and powerlessness that he will show the power of God's love leading to resurrection and new life.
There is a similar incident in today's Gospel. After Peter has cut off the servant's ear, Jesus continues to be faithful and choose the path of non-violent love. He says simply to Peter and to the world, "Put your sword into its sheath. Am I not to drink the cup my Father has given me?" Instead of resorting to violence or force, He chooses to give up his life, to die for our sins, so that we could have a new way of life, eternal life within us, here and now.
Today, we are invited, urged to believe this mystery and choose to live this new way of life Jesus gave us, the way of trust in God and love for all others, including our enemies.
Psychologists give us two instinctive options when we are faced with danger: fight or flight. If we are angry people, we will fight back immediately, seek revenge and try to protect ourselves. That happens so often around us we think it is normal.
If we are fearful people, we will flee in all kinds of ways. We can run away from our pain through addictions. We can escape into silent treatment and not talk to those who hurt us. Or we can just freeze our feelings and become depressed.
Jesus gives us a new option, a new way of dealing with our pain. It is the way of forgiveness, of powerlessness, of unconditional love, based on faith in God's love for us.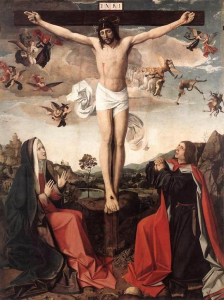 On the cross, Jesus was forgiving those who were crucifying him. At the foot of the cross, Mary was doing the same. She wasn't screaming and frantically trying to stop the crucifixion. No, she was the strong woman of faith, taking in all that negative energy, holding it, praying over it and believing that somehow God would transform it into something good, and God did, through the resurrection of Jesus. Mary, even before Easter morning, even before the giving of the Spirit at Pentecost, was already the model disciple, the first to live the new way of life Jesus was giving us.
Jesus knew the Father had blessed him. He knew the Father loved him. His trust in the Father's love for him and the strength of his relationship with the Father gave him the strength he needed to accept to do the Father's will, to reveal to humanity the depth of the Father's love for us. If that meant to accept suffering, to forgive those who were killing him, to forgive his followers who betrayed, denied and abandoned him – he would do it. He did not fight back; he did not run away; he did the Father's will and forgave. He loved us to the end as the Father loved him.
We also have a choice, to do our own will, or to be like Jesus, have faith in God's love for us, and do the Father's will, learn to love and forgive as Jesus did.
If we choose to continue to do our own will, to continue to live our old way of life, we will always be fighting back. We will continue to live in anger, carry resentment, look for revenge, abuse others, join gangs and kill others through gossip. Or we will always be running away, fleeing from our pain into abusing alcohol and drugs. We will continue to disrespect the gift of human sexuality that God has given us, have sex outside of marriage and not bother to get married. When we do our own will, we will continue to see children having children, burdening grandparents with their own responsibility. We will continue to escape our pain by gambling all night and neglecting our kids, leaving them vulnerable with their emotional needs unmet. Some will continue to make blood money selling drugs and alcohol to their weaker brothers and sisters.  Doing our own will instead of God's will is the root of our problems as individuals, families and as a community.
Let us pray for the faith to deal with our pain, our guilt and fear. Good spirituality deals with pain. The letter to the Hebrews invites us to come to the Lord for mercy and grace; for forgiveness and healing. Let us repent, become aware of what we had done wrong, confess our sins, receive God's forgiveness and healing, be reconciled with God and others, and begin a new way of life.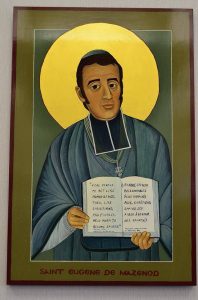 St. Eugene de Mazenod, founder of the Missionary Oblates of Mary Immaculate, is a good example for us today. As a young man, Eugene was from the nobility – popular, handsome and rich. He loved to party, to have good times, to run away from the pain of his parents' separation. One Good Friday, however, he went to church and while venerating the Cross, looking at the pierced feet of Jesus, it suddenly struck him how much God the Father had loved him through the gift of the life and death of his Son Jesus. Eugene was cut to the heart. He was convicted of his selfish and sinful way of life.
Eugene resolved then and there to become a priest, and he did. He had a great concern for the poor of his time, spoke their slang that he had learned from the family's maid, and began to minister to them. Others were attracted by his energy, enthusiasm, love for God and the poor, and joined him. Eventually he founded the Oblates and became the bishop of Marseilles. He spent his life, like St. Paul, doing God's will instead of his own, and in 1995 was declared a saint by the Church. He lived life to the full, giving his life away, and helping others learn the secret of this new way of life that Jesus gave to us. May we go and do the same.
Today, let us follow the example of Jesus. Let us open our hearts to the love that our loving God has shown us in Jesus' death on the cross. Let us choose to change, to let go of our own stubborn self-will, and choose to do the will of God, to live the way Jesus asks us to.
So, let us not put it off any longer. With the example of Jesus, and of St. Eugene before us, let us choose life. Let us chose to let go of our own stubborn will and choose to do the will of God. Let us choose to live this new way of life that Jesus has given us, the way of humble faith and forgiving love that alone will give us the new life of Easter.