HOMILY WEEK 01 03 – YEAR II
Living in Balance
(1 Sam 3: Ps 40; Mk 1:29-39)
**************************************
"I delight to do your will, O my God; your law is within my heart."
This sentence from Psalm 40 of today's readings captures the message of the liturgy for us today – to balance prayer and work, contemplation and action in our lives.
All the readings today speak of this balance. The psalm response, "Here I am, Lord, I come to do your will" speaks first of prayerful listening in the presence of the Lord, and the readiness to live out that prayer by doing God's will.
The psalm continues to speak of waiting patiently in prayer, faithful to God and rejecting the false gods of possessions, fame and power that both attract and distract us from our primary purpose in life – to do God's will. We are told that contemplation is even better than making sacrifices and sin offerings.
The psalm shifts towards the end to action, to evangelizing, to telling the good news of deliverance to others. That word, "deliverance" adds the dimension of healing, of transformation, that is a priceless effect of contemplative prayer. Thomas Keating would call it "divine therapy" flowing from the work of the Holy Spirit at a subconscious level within our being, much deeper than any counseling or psychological therapy can go.
The sentence quoted above, however, sums it all up beautifully: "the law is in our hearts" (contemplation) and we "delight in doing God's will" (action). Richard Rohr OFM might have been inspired by this very line when he prophetically founded the Centre for Action and Contemplation in Albuquerque, New Mexico that has now flowed into a Living School, teaching thousands how to balance contemplation and action in their lives.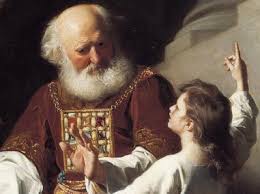 In the first reading, we are told that Samuel is ministering to the Lord, but also deep in prayer, lying in the temple, beside the ark of God. In this situation of prayerful ministry, God both calls to him, and appears to him: "Now the Lord came and stood there, calling as before." Samuel had a spiritual experience, both auditory and visual, and that prepared him and empowered him to be a trustworthy prophet of the Lord, capable of speaking truth to power, as he would do.
The gospel is a wonderful balance of prayer and action in the life of Jesus. He and his disciples left the synagogue, a place of worship centered on God's word. Immediately, Jesus moves into action, healing Peter's mother-in-law (who incidentally springs into action herself to serve others upon being healed) and then healing "the whole city" that gathered around the door, and delivering many from demons and evil spirits.
After that intense ministry, however, Jesus slipped back into contemplation, going out early in the morning to a deserted place, into solitude, to replenish himself by communing with the Father. Thus, nourished and strengthened by that quiet time of contemplation, he was ready once again to proclaim the message of his Good News throughout Galilee, as well as continue to heal and deliver the people from their illnesses, both physical and psychological. So, the pattern for Jesus is a blend of worship, healing, contemplation and more ministry of proclaiming and healing.
Before my ordination to the priesthood, and with the blessing of my spiritual director, Adam Exner OMI, I was privileged to take a 30-day silent directed retreat at the Immaculate Heart Retreat Centre in Spokane. Looking back now, I think I was like the young Samuel, in first fervor, eager to begin ministry, but privileged to have this special time of prayerful preparation in solitude. There were 60 participants, but we lived in silence except for Sunday afternoons when we could talk, and a brief daily encounter with our spiritual director.
Fr. Armand Nigro SJ was the retreat leader. He described this time as a "honeymoon with the Lord." And that it was for me – a unique, priceless, silent honeymoon relating to Jesus as an intimate friend. And I was blessed with spiritual experiences – not visions like Samuel, but certainly auditory – actually hearing Jesus speak to me, through a spider, and a weed!
And after a frustrating hour of sitting under an evergreen tree praying for all the gifts of the Holy Spirit during which nothing happened but dryness, I noticed a spider's thread dangling right before my nose, and suddenly heard these words within my head: "My grace is as fine as a spider's thread – it is always there – most times you won't see it." That was the answer to my prayer – in my life, the Spirit will be at work in quiet, almost imperceptible and not bombastic ways, and so it has been.
The morning after a healing mass during which we were prayed over for a specific healing, I decided to root-weed a small portion of the garden, as it was my last week there and I did not want the weeds to grow back again as was happening from my previous weeks of weeding. As I knelt and started digging around a weed with a trowel, careful not to leave any tendrils behind, I distinctly heard a voice, again within my head, saying, "This is what I am doing to you on this retreat."
That, I realized, was the answer to the prayer at the healing mass the evening before. Almost overwhelmed at this experience, I could only be grateful, and express that gratitude by being like Peter's mother-in-law, Samuel and the psalmist – go out and serve, be prophetic and delight in proclaiming the Good News, as I am doing right now.
What is helping me do that today is Lectio Divina and its four stages: reading a passage of the bible, meditating on that passage, praying with the passage, and then putting all thoughts and emotions aside to simply be in God's presence in contemplation, allowing the Spirit of Jesus to do within me whatever that Spirit wants to do in my life at that time. It is always an act of faith – believing that God is at work in the silence, and that the less I do, the more God is able to do.
The Eucharist invites us to be like Samuel, attentive to God speaking to us through God's word, and to be like Peter's mother-in-law, sent out to serve. Above all, it calls us to live the psalm, to keep God's word ever in our hearts through contemplation, and to delight in doing God's will through service.
May our celebration today help us to balance prayer and work, contemplation and action in our lives.