HOMILY ADVENT WEEK 01 04 – Year II
Humble and Obedient Faith in God
(Isaiah 26:1-6; Ps 118; Mt 7:21, 24-27)
***************************************************
"Only the ones who do the will of my Father in heaven will enter the kingdom of God."
Jesus could not be clearer or more direct than this teaching: "Not everyone who says to me, 'Lord, Lord,' will enter the kingdom of heaven, but only the one who does the will of my father in Heaven." The key to entering the kingdom of God, therefore, is very simply doing the will of the Father which ends up being a strong foundation on which we can build full and fruitful lives.
The late Catholic psychologist Gerald May, in his book Will and Spirit, gives us a fundamental choice for life – being "willful" or being "willing." The first is a stance of stubbornly insisting on doing our own will, which inevitably leads to major problems. The second is a stance of humbly being open to God's will for us, which leads to a life of serenity and even joy.
That first stance is also known as original sin, the archetypal defiant act of our biblical parents, Adam and Eve, who wanted to decide for themselves what was right or wrong, disobeyed God's clear instructions to not eat of the fruit of "the tree of the knowledge of good and evil," and opened the door to humanity constantly repeating that same sin over the ages to our day, in constantly varying forms.
Today that sin takes the shape of our society, among other things, encouraging children to decide their own gender, an epidemic of addiction to avoid personal pain, and physician assisted suicide, softened by such terms as "medical assistance in dying."
This fear of suffering, based on a lack of understanding of the role of suffering, surfaces another way we can do God's will, and that is to follow Jesus to the cross by accepting some suffering and inconvenience in our lives as he did, without bitterness or resentment. Our suffering is then connected to his, and mysteriously takes on deep and profound meaning and purpose in the building up of the Kingdom of God.
It is all based on humble obedient faith. People today lack hope and the ability to accept some suffering, because they don't have an infinite horizon of faith, a larger story, a meta-narrative, a bigger picture into which they can interpret the more painful events of their lives. Lacking this infinite horizon of faith, young people are especially vulnerable, and when a painful event like a break-up of a relationship happens, it feels like the end of the world for them, and some even end up taking their lives!
The Gospel and the first reading actually provide a life-giving, foundational faith pattern for us to follow: we must trust God; listen to the Word of God; know the will of God and do the will of God.
The will of the Father, as taught to us and modelled for us by Jesus, is really quite simple: keep the Great Commandment to love God and others as we love ourselves; to love others as Jesus has loved us; to live the Beatitudes, and even to love our enemies.
To make the will of God simpler, St. Paul in Galatians boils it all down to one sentence: "Love others as you love yourself." On this, he says, "hang all the laws and the prophets." This is the bible boiled down to one sentence: love others as you love yourself.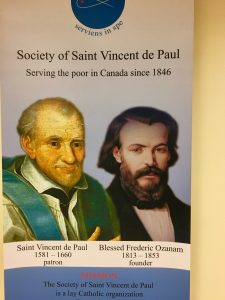 Recently I was invited to be the national chaplain to the St. Vincent de Paul Society. That was like stepping on a fast-moving train of events like the annual assembly in Windsor, a board meeting in Ottawa, writing an Advent reflection for the newsletter, and participating in a regional Ozanam retreat in Calgary.
From the humble beginnings of seven Catholic laymen in 1833, the SSVP has grown to a charitable organization with 800,000 members and 1.5 million volunteers serving 30 million people daily in 150 countries. They are trying to build a more just and humane society by reaching out to the most needy among us. What I really appreciated was the emphasis on visiting homes and building relationships, not just handing out charity. One of the recipients of the North of 60 Project is Sr. Faye Tremblay in Tuktoyaktuk, who shared with me recently on a phone call how much the SSVP has given hope to her isolated community. They are a wonderful example of humble, obedient faith in action.
I was also struck by how similar the goals of this faith organization are with the ideals of St. Eugene de Mazenod, founder of my religious community the Oblates of Mary Immaculate, our motto, "Evangelizare Pauperibus Misit Me" – he sent me to evangelize the poor, and his advice to us at his death, "Among yourselves, charity, charity, charity, and for others, zeal for their souls."
May the Eucharist we celebrate now strengthen us to follow the example of SSVP folks: trust God, listen to God's Word, know the will of God and do the will of God especially by caring for the poor, as the key of entering the kingdom of heaven.