HOMILY WEEK 31 05 – Year I
Joyfully Proclaiming the Good News
(Rm 15:14-21; Ps 98; Lk 16:1-8)
****************************************************
Have you ever wondered what your life would be like without faith in Jesus Christ?
Honest and open encounters with a Muslim woman and a Hindu computer programmer left me appreciating St. Paul's goal to constantly speak about Jesus Christ, and desiring to emulate him in proclaiming the good news of Christ.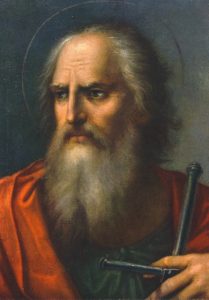 In the first reading to the Romans, Paul speaks as a minister of Jesus Christ, at the service of the Gospel. He speaks only of Jesus Christ and what Jesus accomplished through him. Paul seeks to win the obedience of the Gentiles. He strives to go where Christ is not known, telling people about Jesus, and always he "proclaims the good news of Christ."
Once I was asked to counsel a Muslim woman who grew up in a very rigid family, ruled by a dominant father whose sole goal for his children, and especially for her as the oldest child, was education, education. That might have been okay, but he also applied that goal with such strict discipline and so little fatherly affection she felt lonely and imprisoned throughout her childhood.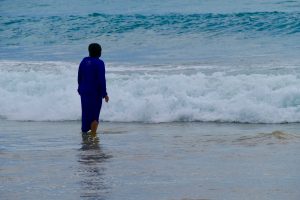 In reaction to that upbringing, lonely and longing for a man in her life, she rebelled and married an abusive man whom her parents did not like, from whom she was twice divorced, and whose constant put-downs had robbed her of any self-worth she had left. When I met her, she was a shadow of her former self, questioning why Allah had allowed her to suffer so much, and wondering how she could start a new life with the support of only a few friends.
In trying to journey with her without violating her faith or imposing my own, I found myself very constrained. It was like trying to drive a scooter with one hand tied behind my back! Gone was: my ability to speak about the Paschal Mystery, the stages of discipleship in following Jesus, his redemptive suffering on the Cross that was full of meaning and purpose, referring to Mary Magdalene as an example of grieving, the power of the resurrection of Jesus in our own lives, and the image of the Trinity as loving family, Father, Son and Holy Spirit.
It did not help that I was almost finished reading the Quran, trying to be as objective as possible, and honestly, found little in it that I could use to help her or guide her. Finally, I shared my predicament with her, and asked her if I could share with her my own faith in Jesus Christ and how that could help her move forward in her life.
Her permission suddenly set me free to be just like St. Paul – to speak about Jesus Christ, and to "proclaim the good news of Christ." It seemed to me she needed to first of all follow the commandment of Jesus to love others as we love ourselves. She needed to start to loving herself by remembering incidents of hurt, identifying the emotions, feeling them, naming them and sharing them. So, I helped her get in touch with her emotions, especially anger and depression, that she was supressing under the grey umbrella of sadness.
Then she needed to heal those emotions (anger through forgiveness; sadness and depression through grieving her losses). I suggested she follow the teaching of Jesus in Matthew 18:15-17, to go to those who hurt her and share her feelings about what happened. For her that would mean writing letters to her father and her ex-husband and communicating with love, with no thought of revenge. She would then be just like Jesus on the Cross ("Father, forgive them, they know not what they do") and her innocence, self-esteem and self-confidence would come back.
I encouraged her to also grieve her losses, the way Jesus taught Mary Magdalene to grieve and mourn his loss ("Do not cling to me, Mary"), urging her to let him ascend to the Father so that she could receive his spirit in a new way, which happened at Pentecost. This woman would also receive the Spirit of Jesus to make up for her losses, heal her sadness, and move on with her life, because God could turn all that was hurtful in her life into rich material for a new life of even helping others. Like the scars of Jesus in the upper room, her wounds could become sacred wounds, and her life filled with meaning and new purpose. She promised to write the letters and to send them to me for some coaching and further discernment about whether they should actually be sent or not.
That encounter left me wondering what my life would be like without belief in Jesus as crucified and risen Lord, Savior, Son of God and my most intimate friend who helps me make sense out of all the suffering and failure of life. That question was underlined by an encounter with a Hindu computer programmer on a flight to India years ago. Having just read an article on inter-religious dialogue, I had a conversation with him about faith and his Hindu beliefs. His description of not having much of a relationship with their gods (he would go to a temple, offer money for sacrifices, then go home expecting the gods to be satisfied, answer his prayers and not interfere with his life) left me feeling sorry for him.
I delighted in sharing with him my image of God as family, Father, Son and Holy Spirit, and my intimate relationship with the Father through my intimate relationship with Jesus (including my daily love letter to Jesus sharing my feelings with him about his Word for that day), some of my spiritual experiences, and the way that I am trying to follow Jesus through the Paschal Mystery pattern he left us of passion, death resurrection, appearances to his friends, ascension into heaven and finally, the giving of the spirit at Pentecost. I don't know what difference that might have made in his life after our plane landed, but I felt like St. Paul, that I had indeed, in a sensitive and non-proselytizing way, proclaimed the good news of Christ.
I think that Jesus, in the gospel parable of the shrewd manager, is encouraging us to be more bold and assertive, not just in living our faith, but also in sharing that life-giving, freeing faith with others. Pope Leo the Great, chief shepherd from 440-461, whose faith in Jesus guided his whole life, and whose sermons and letters became the first collection of papal materials in the Church, is a good model for us. Made a doctor of the Church in 1754, his peacekeeping, charity and life of service had a great influence on the Church.
The Eucharist is a celebration of the good news that in Jesus' life, death and resurrection, God has loved us totally and unconditionally.
May our celebration also empower us to follow in the footsteps of St. Paul, speaking about Jesus fearlessly, and proclaiming the good news of Christ to the whole world.