SOLEMNITY: ALL SAINTS DAY
Living In the Reign as Servants and Children of God
(Rev 7:2-4, 9-14; Ps 24; 1 Jn 3:1-3; Mt 5:1-12)
********************************************************
"It is heaven all the way to heaven." This statement from St. Catherine of Sienna, and the All Saints Liturgy today, invite us to live in the reign of God as servants and children of God.
My motto as a bishop fits today's liturgy very well – Regnum Dei Intra Vos – "The Kingdom of God is among you." That comes from Luke 17:21, the only place in the New Testament where Jesus doesn't just say we are "close to the Kingdom of God," or "near the Kingdom of God," but the Kingdom of God is among us, in us – Regnum Dei Intra Vos.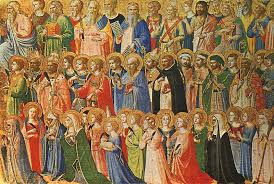 We get a glimpse of this kingdom in the first reading from the vision of St. John in the Book of Revelation. He sees 144,000 souls "sealed" around the throne of God. To my mind, those numbers symbolize the 12 tribes of Israel, and the 12 apostles who represent the new Israel, the new people of God. John then sees a great multitude no one can count – a sign of the magnanimity of God and the many rooms in the house of the Father. He highlights those robed in white, who have washed their robes in the blood of the lamb – the martyrs who gave their lives out of love for God.
We may not be martyred physically, although today there are more Christians being persecuted and even martyred for their faith than ever before. However, we are called, in the words of Archbishop Emeritus Adam Exner OMI, to live Calvary in slow motion – to die to ourselves everyday as we give our lives away making this world a better place.
John also speaks of salvation. Salvation is the eternal life with God we are to be already experiencing in this life as servants and children of God, living within the kingdom of God, and not just a reality reserved for after we die.
Psalm 24 adds to this thought: Those who will ascend the hill of the Lord, who shall stand in God's holy place, who will receive blessing, vindication and salvation from God, are those with clean hands and pure hearts. That refers to those who are just, honest and fair, and those who are single-minded, not distracted by the sensual allurements of this world, but rather totally focused on Jesus and doing his will, with no other false gods in his place.
In the second reading from 1 John, we are called children of God, and assured we will be just like God when we see him "as God is," if we purify ourselves just as God is pure. That process is called by the Greek Fathers and Mothers theosis or divinization – being transformed little by little into the image and likeness of Christ through his forgiveness of our sins, and the healing of our sinfulness (that which makes us sin). Check out 2 Corinthians 3:18 for St. Paul's inspired reflection on this reality.
In the gospel, Jesus describes how we are to live in this world as saints, servants and children of God. The Returning to Spirit program teaches we all have a "Way of Being", the way we carry ourselves and live out our lives in this world. Often, that Way of Being is not that healthy and even hurtful to others, such as "Drama Queen" or "Mr. Fix-It."
The Beatitudes are eight healthy ways of being in this world helping build up the reign of God here and now: being poor in spirit, able to grieve and support others in their grief, gentle, forgiving, single-minded, just and faithful in the face of opposition. The first and the last Beatitude are cast in the present tense – blessed are the poor in spirit – theirs IS the kingdom of heaven, and blessed are the persecuted – theirs IS the kingdom of heaven. That is "realized eschatology," heaven already present here and now, as we die before we die.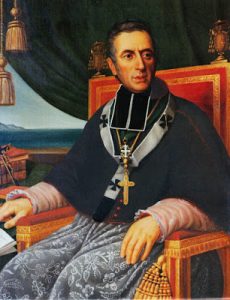 Two models for us are St. Eugene de Mazenod, founder of the Oblates of Mary Immaculate, and Bishop Ovide Charlebois OMI, first bishop of the Vicariate of Keewatin-The Pas. After his Good Friday conversion experience, Eugene strove to be a saint and taught his Oblates to help people be first of all human, then Christians, and finally, to be saints.
Ovide Charlebois, for his part, stated he would be wasting his life if he were not trying to be a saint, and his cause for canonization is in process. As I learned more about him, I was more and more impressed and inspired by his love for God, for God's people, and his piety and dedicated ministry. Here is an excerpt from a journal about his first missionary journey in his diocese:
"He left The Pas in the month of May and returned home four months later. During this trip, he traveled 300 miles by train, eighty in a big truck without springs on terrible roads; 2,000 miles by canoe, 50 miles on foot across portages and thick forest. He slept 60 nights on the ground in a small canvas tent. He visited 14 missions comprised of 4,500 First Nations Catholics. Six of the missions had never been visited by a bishop. He preached seven retreats of 4-6 six days and confirmed 1,100 First Nations persons whose dispositions were edifying. He noted with sadness the inadequate number of missionaries. In a dozen communities, the people were asking for a priest." Truly, this veteran missionary bishop was a servant and child of God living in the Reign of God."
Along with these two – a saint and saint-in-the making, there are countless more men, women and youth in heaven right now singing the song of triumph the capital-S saints sing. It's these anonymous, unacknowledged "small-S" saints whom we honor today. There are millions of them, spanning every century and every generation since the birth of the church. Who are these saints? These are the people whose love for Christ has inspired us, whose dedication to selfless service has touched our hearts, whose peaceful disposition has edified us. Think of the people who have made us want to press on in faith. People like these are gifts from God, encouraging us and lifting our eyes to heaven.  Today is a day to thank God for the blessings these small-S saints have been in our life. It is also a day to think of the effect we may have on other people, and to strive to be saints in our own right.
The Eucharist is our communal meal as children of God, a foretaste of that heavenly banquet we are destined to share in fullness. It is a transformative experience –  bread and wine are transformed into the body and blood of Christ, and we who receive are in turn transformed into the Body of Christ, servants of God sent out to spread this good news to the world.
So, as we celebrate this feast of All Saints, let us do so as saints ourselves, servants and children of God, living within the Kingdom of God.