HOMILY EASTER WEEK 03 04
Dare We Also Rejoice and Proclaim?
(Acts 8:26-40; Ps 66; Jn 6:44-51)
******************************************
Henri Thoreau once famously claimed "Most people lead lives of quiet desperation." Given our society today, I would add "and silent depression," coming from the surprising response to a retreat we gave at the Star of the North once entitled "From Depression to Delight," as well as the outlandish reliance on prescription drugs.
In this context, the readings today are like a breath of fresh. Faith in Jesus as the Son of God, long awaited Messiah, Bread of Life, and openness to his Holy Spirit, lead us to experience his eternal life of joy and freedom – a new reality worth proclaiming to the world!
To pick up on that quote by Thoreau, I would say many people today are carrying an invisible spiritual burden weighing down their spirits and dulling their emotions. That burden can be summed up as anger and resentment, shock and shame, sadness and self-pity, and finally, guilt and fear.
When we are hurt, and all of us are (no one gets a free pass in this life), we feel anger morphing into resentment and a host of other painful emotions. When we are abused, we feel shock and shame, also morphing into a host of other painful emotions. Whenever we are hurt, we suffer loss and feel sadness and self-pity, again morphing into a host of other emotions, especially depression. And when we do not know how to deal with all these painful emotions within, we act out of our pain, hurt others and feel guilt and fear, which in turn morphs into a host of other painful emotions and coping strategies like denial and blame. That is our invisible spiritual burden.
What we see in the first reading and psalm is just the opposite – refugees like Philip and ordinary people like the Ethiopian eunuch set free by their faith in Jesus and openness to the Holy Spirit. They are able to go their way rejoicing and even joyfully proclaiming the good news of Jesus Christ.
Think of this – Philip was a refugee who had just been dispossessed by persecution from the Jewish religious establishment reacting to the stoning and martyrdom of Stephen. He had lost everything, yet considered that a trivial matter, so filled with joy was he at the good news of the resurrection of Jesus and the gift of the Spirit of the Risen Jesus within him, consoling, energizing, guiding him – the presence of Jesus within him!
Philip must have felt what refugees in Iraq felt when everything had been taken from them by ISIS – their families killed, their homes and property confiscated, and having to flee for their lives. Yet there they were with absolutely nothing, but still filled with joy. When asked how this could be, they are just like Philip – very willing to proclaim the good news that when they have nothing, they are starkly aware all they have is Jesus, and no one can take Jesus away from them.
In the gospel, Jesus speaks of his intimate relationship with the Father who sent him into the world, and calls himself the Bread of Life who alone can truly satisfy that spiritual angst, that longing for completion and wholeness that is the universal human condition. That angst is sharper for those who were deprived of love or abused, leaving them not just with the longing, but also with a hole in their soul so often accompanied by a deep, pervasive loneliness and deadening depression. As the Messiah, Jesus is the answer. His forgiveness can free them from guilt and fear. His healing can deliver them from their painful emotions and defects of character.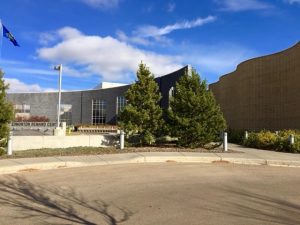 I go to the Remand Centre in Edmonton once a month, and find joy in sharing that message with the inmates, that the Holy Spirit cannot be contained by prison walls, and that they can find that same peace, joy and freedom even while incarcerated, if they only could and would surrender their lives to Jesus and his Spirit. They are there, for the most part, because of that spiritual burden. They have all been hurt, either by a lack of love, violence, even abuse, and for the most part, instead of dealing with their painful emotions of anger, resentment, shock, shame, sadness and self-pity, acted out of those emotions, hurt others, and now are facing the consequences of that wrong-doing.
The good news is that Jesus is the Messiah and Risen Lord who, through the power of his Spirit, can forgive them all their sins, and heal them of all their painful emotions and defects of character. All they need to do is be humble, have faith, let the Lord in with his forgiveness and healing, and that new life of Easter, the peace and joy and freedom of the Spirit, the very eternal life Jesus speaks about in the Gospel can be theirs. And some, far too few, actually do have a conversion experience like St. Paul, and find personal freedom before they are released physically.
Robert is one such person. Growing up in a dysfunctional family in Montreal that was involved in organized crime, he fell into that lifestyle, became a gang leader, and lived a life of crime until he was caught and incarcerated. While in prison, a Catholic chaplain took him under her wing, got him into scripture, guided him spiritually, and led him to surrender his life to Jesus. He now is working hard to establish a safe-house for inmates heading to treatment for their addictions upon their release, and has recently started a new career as a pod-caster. He too, in his own way, is like Philip – sharing his new-found joy with the world, proclaiming the good news of Jesus Christ risen from the dead.
The Eucharist is a joyful celebration in which we experience that very forgiveness and healing of Jesus that is the source of our freedom and joy. May our celebration also empower us to be like Philip the refugee, and the refugees of Iraq, to joyfully proclaim this good news to the whole world.